"While Taking That First Step and Reaching Out for Help Can Be Difficult, It Can Also Create a Feeling of Relief."
---
I am located at 60 Fire Island Avenue, Babylon, NY 11702. Situated in the heart of Babylon Village, my office offers a casual, home-like setting with private parking and waiting area. Parking area is to the right of the building and around the back. You may also park in the municipal lot across the street next to The Carriage House. The building is blue with red shutters. I am located on the second floor. After you enter the building, continue up the tall staircase and you will see the wait area on the left.

** Please note this building is not handicapped accessible.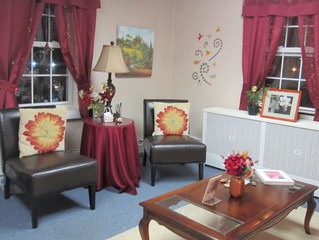 If you would like to schedule an appointment to meet with me in my Babylon office, please contact me at
631-836-3027
. I will, most likely, answer your call, however, please feel free to leave a voice message with a call back number and time of day that would be best to speak with you.
All voice messages are confidential.
Here are some questions I might ask during the initial telephone contact:
What is happening currently that motivated you to reach out to me?
Have you been in some type of mental health treatment previously?
Do you have health insurance benefits and, if so, what is your copay amount?
How did you find out about my services or were you referred by someone?
You can also check out my profile and BLOG POSTS at
www.getunstuckinyourrelationships.blogspot.com
&
www.freedomfromcodependency.blogspot.com
for discussions and information on:
Setting healthy boundaries in relationships
Tools for self-relaxation
Stopping negative thought patterns
Learning how to say 'no' effectively
---