" I survived because the fire inside me burned brighter than the fire around me." - Joshua Graham
---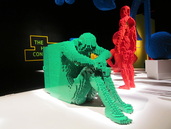 If you are able to recognize some signs of codependency in your relationships, you may also be carrying around the negative effects of childhood trauma. Trauma that occurred on a consistent basis from early on in one's life is referred to as 'complex trauma'. It is a form of PTSD (Post-traumatic Stress Disorder), however it looks different on a time-line and involves, not a single traumatic event, but an overall environment of trauma-inducing experiences. For those struggling with symptoms of PTSD, life before the traumatic incident was pretty much stable and happy with some ordinary bumps here and there. Then, BOOM!, a traumatic event occurs. Life after the incident looks and feels very different.
In the case of complex trauma, there is no 'before' or 'after'. Life was, for the most part, unhappy and unstable from very early on.
Essentially, there was no BOOM!
If the latter seems to describe your experience, you may be struggling with symptoms of complex trauma, which can include the following:
Feelings of shame
Relentless fear of being abandoned
Tendency to become over-reactive/over-emotional
Underlying feelings of powerlessness/helplessness
There is a way to reduce or eliminate these symptoms and find peace and fulfillment in your relationships. I will work together with you to heal the trauma at the core of your relationship issues, enabling you to make healthier decisions, build supportive connections with others, and rediscover your true self. Feel free to contact me at
631-836-3027
for more information.
---